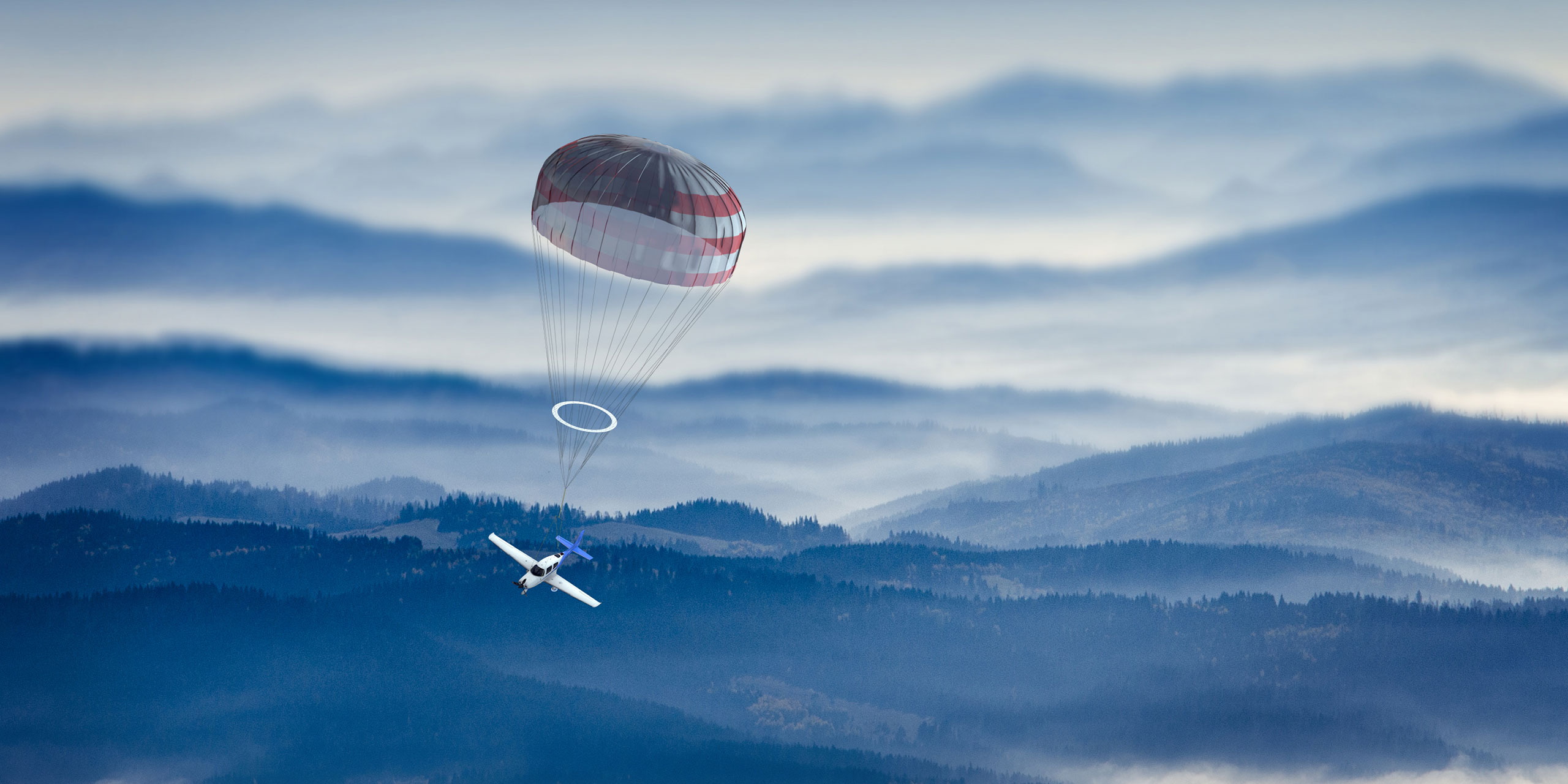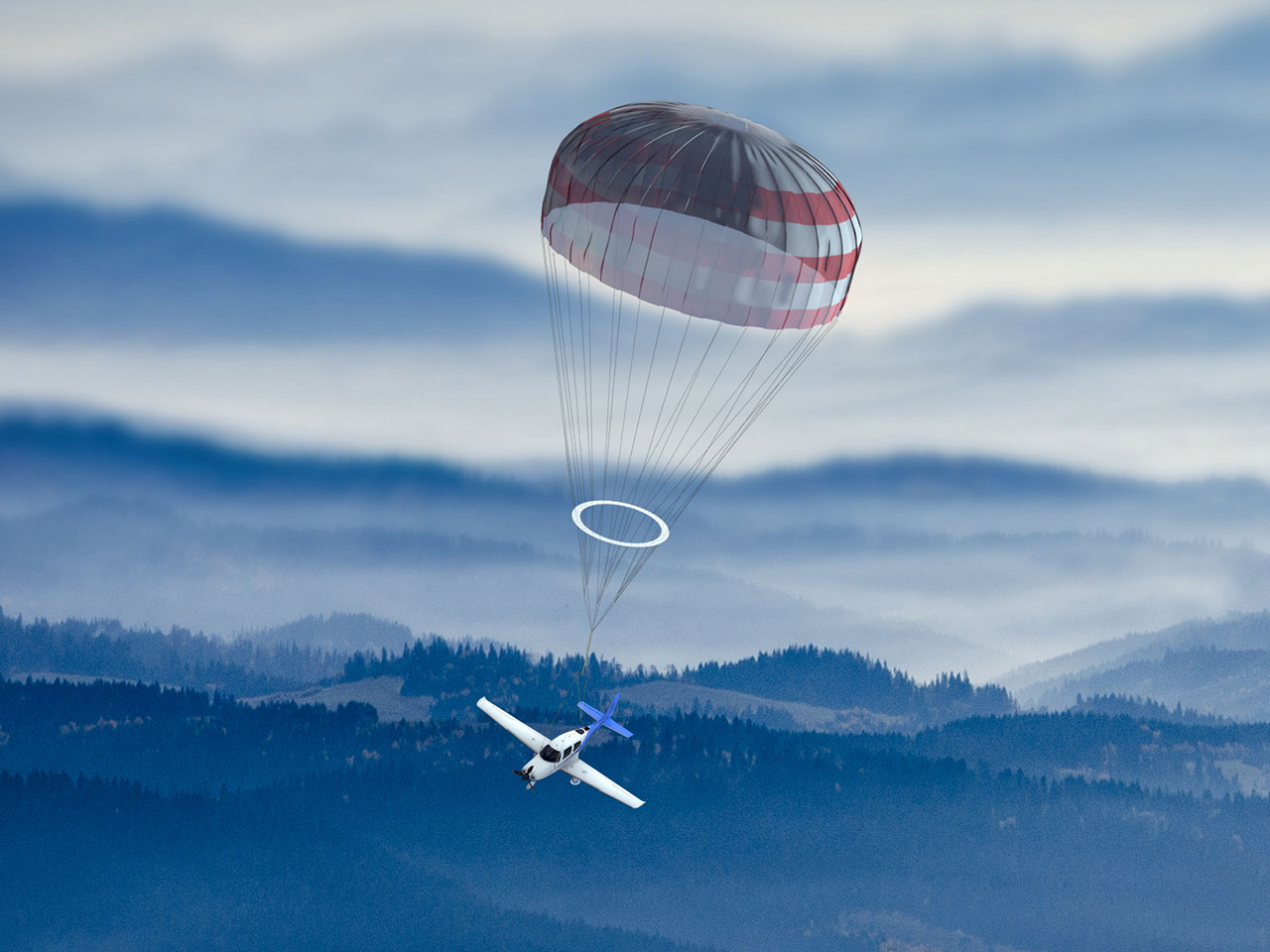 CAPS® TRAINING
COURSE

Live with it.
ULTIMATE BACKUP
The Cirrus Airframe Parachute System - CAPS® - is your ultimate backup for those rarest and most inconceivable situations. Cirrus Aircraft strives to advance general aviation by building safer airplanes that are comfortable, stylish, and easy to fly - and CAPS is an essential part of achieving that goal. It's designed to change the odds and give Cirrus pilots, and passengers, the ultimate backup.

With a simple pull of the red T-handle, the rocket-propelled parachute system deploys and lowers the entire airplane - so you, and your passengers - back to the ground while still safely inside the protected environment of your Cirrus. What this really means is - more than 170 people have been returned to their families because of CAPS.
GET INTO THE CAPS MINDSET
CAPS is more than an essential safety system, it's a mindset. With CAPS you have more options, should you face that incredibly rare "worst-case" scenario. CAPS isn't just for pilots, it gives passengers another option, should the pilot ever be incapacitated and can't land the airplane. Some situations, those that are the most desperate, necessitate immediate CAPS deployment - mid-air collision, spin, loss of control, or engine failure between your CAPS altitude and 2,000 feet AGL. In other situations, such as an engine failure in cruise above 2,000 feet AGL, CAPS presents you with more options; allowing you to troubleshoot the problem to your pre-established "hard deck" altitude, where you either have your desired landing point 100% assured - or you pull CAPS.
BUILD THE FOUNDATION
CAPS training is designed for every Cirrus pilot. In this course you'll walk through a complete CAPS deployment, starting with your decision to pull the CAPS handle, exploring every step along the way. You'll hear from people who've actually used CAPS, and we'll ask you to think about some tough questions - putting you in their shoes and forcing you to think about how you'd respond. As you follow the deployment process, you'll dig into the system components that actually make CAPS work. Finally, you'll review strategies for keeping CAPS involved in your decision-making process, leveraging lessons learned from within the Cirrus community - from owners, pilots, Cirrus factory test pilots, and CSIPs. The objective is pretty straightforward - provide you with complete CAPS training, so you'll have a renewed sense of confidence to deploy CAPS, should you need it.
1
lesson time:
20 minutes (estimated)
Your Ultimate Backup
At Cirrus Aircraft, safety has always been the driving factor behind the design of every airplane that's rolled off the factory floor. The Cirrus Airframe Parachute System, or CAPS, is the ultimate manifestation of a cultural top-down commitment to general aviation safety.
| | | |
| --- | --- | --- |
| play_arrow | Your Ultimate Backup | 8:28m |
2
lesson time:
25 minutes (estimated)
Aeronautical Decision Making
Explore key concepts of the CAPS deployment decision-making processes applied throughout every flight.
| | | |
| --- | --- | --- |
| play_arrow | ADM | 11:53m |
| play_arrow | Greg Huntley's Story | 4:25m |
| play_arrow | Mayday Over the Pacific | 7:47m |
3
lesson time:
10 minutes (estimated)
Components
Develop an intimate understanding of the network of individual components and interactions fundamental to CAPS.
| | | |
| --- | --- | --- |
| play_arrow | Components | 4:14m |
4
lesson time:
8 minutes (estimated)
Deployment
Understand the CAPS deployment stages from activation to touchdown.
| | | |
| --- | --- | --- |
| play_arrow | Deployment | 7:06m |
5
lesson time:
7 minutes (estimated)
Operation
Integrate CAPS into routine aircraft operations from briefings to checklist and risk management.
| | | |
| --- | --- | --- |
| play_arrow | Operation | 6:50m |
6
lesson time:
3 minutes (estimated)
Post-Deployment
Prepare the aircraft and occupants after a CAPS deployment.
| | | |
| --- | --- | --- |
| play_arrow | Post-Deployment | 2:31m |
7
lesson time:
15 minutes (estimated)
Would You Pull?
Make the decision to pull CAPS before stepping into the plane by analyzing the number of reasons and scenarios where pulling may be the best choice for survival.
| | | |
| --- | --- | --- |
| play_arrow | Would You Pull? | 13:45m |
8
lesson time:
5 minutes (estimated)
Preflight
Be equipped for the unlikely event where deployment becomes necessary with a thorough preflight of CAPS on the ground.
| | | |
| --- | --- | --- |
| play_arrow | Preflight | 3:19m |
CAPS HANDLE EQUIPPED SIMULATORS
Cirrus Aircraft (Scottsdale)KSDLScottsdale, AZUSA480.590.3634Perspective+NoMountain Lion AviationKTRKTruckee, CAUSA530.655.1100Perspective+NoNorthwest Flight ServiceKSFFSpokane, WAUSA509.458.2359Perspective & Perspective+No
| Flight School | Airport | City / State | Country | Contact | Avionics | Motion |
| --- | --- | --- | --- | --- | --- | --- |
| Aero Poznan | EPPO | Poznan | Poland | +48.61.8474773 | Perspective | Yes |
| All In Aviation | KHND | Henderson, NV | USA | 702.255.4622 | Perspective+ | No |
| All In Aviation VGT | KVGT | Las Vegas, NV | USA | 702.810.8128 | Avidyne | Yes |
| Blue Sky Aviation | KRYY | Kennesaw, GA | USA | 770.262.7629 | Avidyne | Yes |
| Cirrus Aircraft Vision Center | KTYS | Knoxville, TN | USA | 865.724.1923 | Perspective | No |
| Daedalus Aviation | EGBB | Coalville | UK | +44.1530.512432 | Avidyne, Perspective+ | Yes |
| Destinations Executive Flight Center | KRVS | Tulsa, OK | USA | 918.298.5555 | Avidyne, Perspective | Yes |
| Elite Aircraft Service | KRDU | Sanford, NC | USA | 919.576.0174 | Perspective | No |
| FEIST Motion Simulator Center | KVGT | North Las Vegas, NV | USA | 702.810.8128 | Avidyne | Yes |
| First Wing Jet Center | KTYQ | Zionsville, IN | USA | 317.769.4487 | Perspective | Yes |
| flyADVANCED | KLOM | Blue Bell, PA | USA | 215.646.0400 | Perspective | Yes |
| Independence Aviation (Denver) | KAPA | Englewood, CO | USA | 303.858.1600 | Avidyne | No |
| Mach 1 Aviation | KVNY | Van Nuys, CA | USA | 818.390.9965 | Perspective+ | No |
| Mike Goulian Aviation | KPYM | Plymouth, MA | USA | 508.591.0889 | Perspective+ | No |
| Modern Pilot | KAXH | SW Houston, TX | USA | 713.367.1797 | Perspective+ | No |
| Rising Wings Aviation | KCPR | Casper, WY | USA | 307.472.4359 | Perspective | No |
| Sim Pro Flight Training | KARR | Sugar Grove, IL | USA | 630.466.7100 | Avidyne | No |
| Synergy Flight Center | KBMI | Bloomington, IL | USA | 309.828.4448 | Perspective | Yes |
| Texas Skies Aviation | 5C1 | Boerne, TX | USA | 210.347.8726 | Perspective+ | No |
| The Flight Academy | KRNT | Renton, WA | USA | 206.219.3720 | Perspective+ | No |
| Tubreaux Aviation | KDTN | Shreveport, LA | USA | 318.510.4330 | Avidyne | Yes |